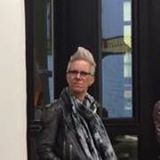 Selly Mares, Maastricht 1970.
Selly lives and works in Maastricht. In 1997 she graduated from the Maastrichts Academy of Music with as principle profession violincello. Around 2000 combined Music with Visual art. Music and painting proved to be a perfect combination for her. Both disciplines complement each other very well. In 2006 unfortunately she could not playing cello anymore. Painting became more and more important.
Selly mainly works in acrylics on linen, often in combination with mixed media. She tries to reflect that what occupies her in her work. Music and travelling around the world are both an important source of inspiration to her.Discovering other countries forms an important source of inspiration. The atmosphere, the people, their culture and last but not least the beautiful nature. Always surprising and pure. Tunisia, Egypt, Turkey, Thailand, Sri Lanka, Indonesia, Costa Rica, from Capetown, South Africa to the Victoria Falls in Zambia, the Amazon area in Brazil, India ans Nepal, Sunda Indonesia. All of them have left an enormous impression.
In her lyric abstract work she combines sand and acrylics. The use of sand reflects de power of nature. Always different again, rough and pure. Remarkable bright colours contrast the whimsical sand. The simple but strong compositions become a reference to the enormous impressions that are left by her travels. She also expresses the enormous feelings music evokes in her that way.
'In a certain way for me painting is always again like a new journey.''
Français:
Selly habite et travaille à Maastricht. En 1997, elle achève ses études au conservatoire de Maestricht section principale : violoncelle. Au cours de ses études , elle fait pour la première fois la connaissance avec la peinture. Musique et peinture une combinaison parfaite pour elle. Les deux disciplines se complètent très bien. Selly travailles principalement avec de l'acrylique, combinés avec du sable. Ses travaux deviennent plus abstraits.. Ses voyages forment une source d'inspiration importante . L'ambiance, et les gens, leurs cultures la nature. Toujours de nouvelles découvertes et empreintes de surprises. La Tunisie, l'Égypte, la Turquie, la Thaïlande, Sri Lanka, Indonésie, Costa Rica, la ville de cap, du sud l'Afrique vers cascades de Victoria en Zambie, Amazon aire au Brésil
Dans ses travaux d'abstraction lyrique , elle combine le sable avec l'acrylique. L'utilisation du sable reflète la force de la nature. . Surprenantes les couleurs claires contrastent avec les parties de sable. Des compositions simples mais fortes de sens , des representations de tous ses voyages.
'Pour moi d'une certaine façon, un nouveau voyage est aussi une redécouverte picturale.'
copyright © Selly Mares